I got asked again if I make the handmade pot scrubbies that so many people love. Sadly, I don't - they are crochet which is a skill I don't have. But I promised a lady that I would see if I could find them for her and post the results here.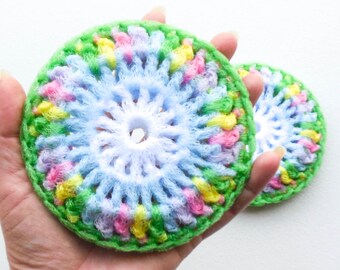 Rebekah Wheat has a shop on Etsy with reasonable prices and a great selection. Her shop is ArtistBeeBee. I am sure she would love to hear from you!
If you would rather shop on Amazon, Michael and Kristine are
TheLotusShop. They have been on Handmade at Amazon for quite a while, have great feedback and reasonable shipping/delivery times. They, too, would surely love to hear from you.
I hope these sources will help any/all of you who are looking for these handy dish scrubbies!